The goal to make €100 a month by April failed. Last month earnings were just €5,65 so it shouldn't be a surprise I didn't make it. I made a few new website just for AdSense but those are not yet bringing in visitors or money. I have to admit that I didn't work as hard as I wanted. If I put in more hours and work smarter the goal should be easy to reach.
For now; the Google AdSense income for April;
€21,13
That's much better than March. This gives me new confidence that I can reach the €100 a month goal. I also made it to 100,000 ad impressions on AdSense.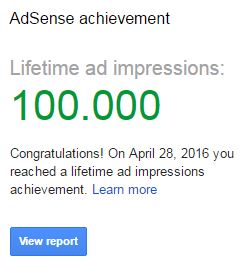 I am also working on an affiliate site on which I am selling shoes. It's more a test and I am not yet putting in serious work. Will share the outcome of it with you in a later post.