One of my new niche sites gained rankings since a couple of days. What gets my attention is that the higher rankings in Google are not just from 1 or 2 keywords but from several keywords. Even keywords that I am not particularly targetting.
Check out the screen below (30 days of traffic). As you can see its going up, up, up. I am checking the numbers for today and it looks like it will not surpass 100 uniques today. It might stabalize around 100… I am not sure. But things are definitily moving.

75% of the traffic is coming from Google. A good amount I guess. With this kind of traffic you are pretty sure it is targetted. The average time is over 2 minutes per visitor and bounce rate is below 5% (!).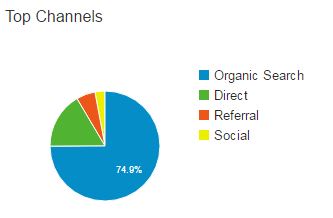 The Google AdSense income from this site is also up compared with last month (obvious). Not sure yet where it will go. Will keep you guys updated!