September went by fast. I finally got time to create a website on a domain i bought last year. It's an exact match domain for London. My aim is on the travel niche so I will continue creating sites in that area. The London site is coming along nice and soon it will be ready for marketing. I bought the domain for €300,- and the search volume for the term is around 8,000 times a month.
Now, Google AdSense earnings for September;
€427,11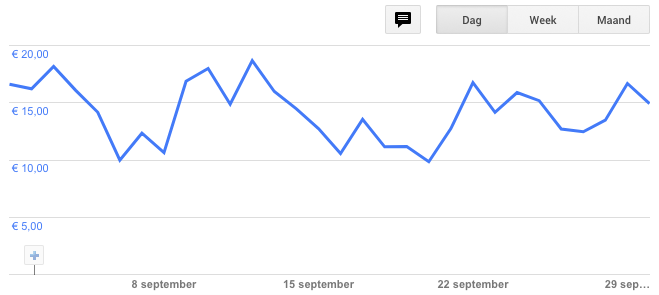 Not bad. The two months before were both record breaking months with both over €500,-. I was expecting in the €300 for this month because holiday season is over. But still over €400,- in passive income, which is good enough!
Focus for this month is on the London site. I hope it will be ready for marketing upcoming week. Also working on a cruise site which is still in development. More about that later 🙂
Investing
I talked about bitcoin in January hitting over $1000. Today Bitcoin is at $4000+ and it looks like it will continue to rise. I did some trades and still hold a small portion. What do you think of Bitcoin? Let me know in the comments.